Tips for creating a free business listing in Google Places: Business listing titles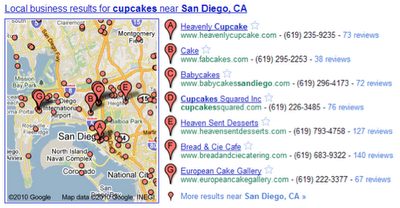 If you don't already have a listing in Google Places Click Here to get started!
When creating your listing make sure you use your real business name in the Title. Do not include keywords - save those for the description. For example, we would list our business as Smatwebdesign and SEO because that is how it is listed on our business cards. We would not want to list our business title as Smat Web Design, SEO, Hosting, Email, Email Marketing, and SMM.
Also, do not include puncuation or special characters thinking this will help your listing stand out.
Listings that are in violation of these guidelines may be suspended and won't appear in Google search results.
Here is an example of business listing displayed when searching for cupcakes San Diego, CA