Smat Web Design is an authorized NTREIS provider. We design and build real estate websites that feature your real estate property listings on your website. In addition to creating a great visual web presence that attracts repeat visits, we make it easy for you to categorize listings that suit your practice… not just general MLS categories. You can also custom tailor your listings in the cities you work in, or other areas of expertise. Get as specific as you wish.
Categorize your property listings
Such flexibility lets you feature your listing inventory in categories of your own choosing, such as:
golf course homes

homes with swimming pools

waterfront homes

ranches / acreage

commercial

multifamily

lease
Smat Web Design gives you this capability that will keep prospects on your website, giving them what they want and showcasing your specialty areas. Additionally, the look of your listing page is consistent with the rest of your website, not a bland stock template!
An SEO friendly website platform also increases your competitive position. See what Smat Web Design can do to bring you more sales. Our Search Engine Friendly website solution not only features your listings, but can also draw buyers who are searching for real estate on the Internet.

Ginger & Associates site utilizes our most recent site design tools to create a modern and clean homepage. The search results page design is also quite impressive and easy to navigate.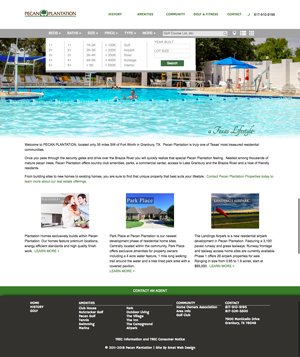 Pecan Plantation has a unique search feature on the homepage and a useful map for the search results page. This site also offers search results for particular types of property like lake front or airfield.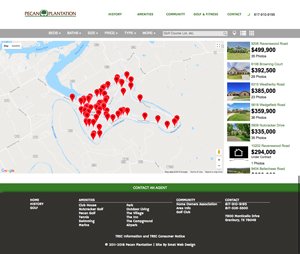 CALLS TO ACTION
When a buyer is viewing a property they have several ways to interact with the agent using our clear calls to action.

Each button performs a unique action that keeps the visitor engaged in the property they are viewing. View Pictures - shows a photo gallery from pictures saved in MLS. Virtual Tour - launches a virtual tour showing. Schedule a Viewing - allows the visitor to request a viewing of the property. Map Listing - Shows a Google Map of the listing. Print Listing - prints the listing. Mortgage Calcuator - Allows the buyer to calculate what their payment may be for the property in question. More Info - sends the agent an e-mail requesting additional information about the property.
Custom Real Estate Property Search
Our Real Estate Website solution can be customized to search for Real Estate in the specific areas, cities, or property types that you deal in. Whether you want to only feature Commercial listings, or only sell Land. We can build a property search that is focused on your specialization.